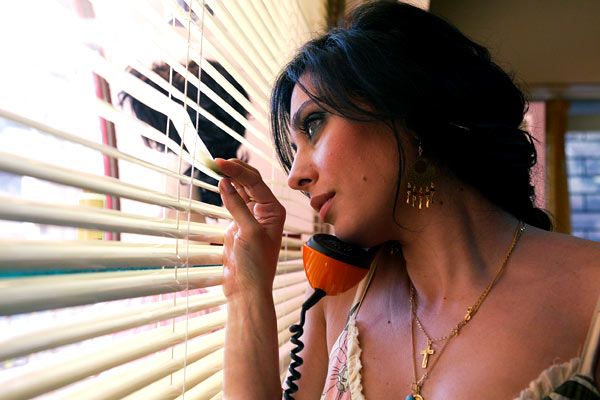 I have recently viewed 'Caramel', a delightful romantic comedy about a group of beauty shop workers in Beirut, Lebanon. The film was written and directed by its star, Nadine Labaki. Directing her first feature film, Labaki assures us we are in able hands from frame one, a gorgeous shot of glistening caramel that leads into a montage of how caramel is made and how it is used. If you didn't know, it is used as a hot wax in a beauty parlor.
Labaki, who got her start making music videos, showcases a side of Lebanon that most Americans never have the chance to see. This film was made during a turbulent time in Lebanon, but Labaki chooses to ignore the broader political climate in order to focus on the daily lives of five ordinary women. The result is an intimate portrait of a woman's life in a melting pot of religions, cultures, and traditions.
Labaki plays Layale, a young woman caught up in an affair with a married man. Her friends and co-workers each face their own equally daunting predicaments. All the stories deal with somewhat taboo topics in a culture that doesn't openly discuss issues like homosexuality and infidelity. Nisrine is engaged to be married but is hiding a secret from her fiancé. Rima meets a beautiful woman that she may be falling in love with and Jamale is an aging actress, unable to come to terms with getting older. Then there is Aunt Rose, the elderly spinster, desperate for one last shot of love. Aunt Rose's story may be the most compelling as she is forced to choose between a caring man and her dementia ridden older sister.
Each of these stories is worthy of a film unto itself. However, splitting the time between all five characters over the course 95 minutes made it hard to fully engage in any one story. Labaki, a pleasure to watch on screen, may have benefited from beefing up her own role and further exploring the relationship with Joseph (Adel Karam), the police officer that pines after Layale. Karam is comedic and charming. In one remarkable scene, Joseph watches Layale from afar as she talks on the phone. Joseph imagines himself chatting with her on the other end of the line while we see that she is in fact speaking to her lover. The scene is tragically endearing, reminiscent of something out of 'Amelie.' Diving deeper into the relationship between Joseph and Layale may have provided a stronger through-line that would have helped garner this film an Academy Award nomination.
Around this time of year I am overwhelmed with award season fare and beginning of the year box office garbage. If you are looking for something new and refreshing, check out 'Caramel'. It is playing in limited release. Seeing these five women rally behind one another, putting friendship and loyalties above all else, is a joy to watch. The film is filled with fantastic touches and is guaranteed to make you laugh a lot and maybe even cry just a bit. Nadine Labaki has rightfully earned herself a spot on Variety's 10 Directors to Look Out for List.